Draper Photo Archive
Featuring both the classics to spark your memories and kindle your weight training spirit, plus a selection of previously unpublished photos gathered from a range of sources - from the Weider Archives to the collection of bodybuilding historian David Chapman to the musty attic of some of our favorite email pen pals. Many thanks to the photographers and to the generous collectors for their contributions.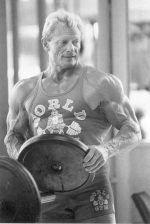 Click on a link below to begin your travels. Each page offers a selection of photos which, when clicked, enlarge for better viewing.
Photo Archive proof sheet 1
Photo Archive proof sheet 2
Photo Archive proof sheet 3
Photo Archive proof sheet 4
Photo Archive proof sheet 5
Photo Archive proof sheet 6
Photo Archive proof sheet 7
Photo Archive proof sheet 8
Photo Archive proof sheet 9
Photo Archive proof sheet 10
Famous Draper biceps shots
1999 Ed Corney Classic proof sheet
2001 World Highland Games
Animated Draper gifs
Draper Computer Wallpapers
Click here to order our fabulous book of bodybuilding history, including terrific old photos and captions written by Dave