A Tribute to Artie Zeller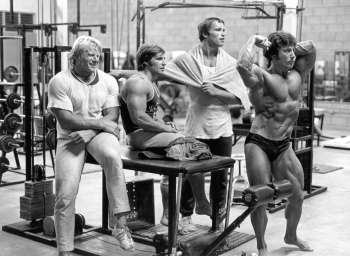 Three weeks ago Laree and I sat before the computer and answered every last email. How to gain muscle, how to lose fat. Andro this. Sterol that. Bodybuilding for two weeks and nothing's happening, no cuts, no mass. The email counter read -0- …zero. We quickly shut down, stepped back and momentarily stared at the screen. I began to run, but Laree caught me by the shoulder and said, "Cherish the moment."
We love the email. It's our source, the voice of our audience. It's you. But when it mounts while we sleep, email makes us dizzy. Upon returning from our trek across the fields of grain and purple mountains majesty, we had 381 new email messages in the very same little computer. Laree's a girl. She shrieked. I reached for the monitor but she held me back. "Strangling the thing's not gonna help," she reasoned. Laree's always right, so we buckled down and got to work - like reps and sets, chins and dips. Keep the pace, stay focused. Keep pumping. You can do it. One more rep. The fact is the email was exceptional - real people, real lives, real loves, frustrations, problems, delights and discoveries. Thank you. A privilege.
By Friday a week ago, we dashed off enough cyber answers to clean the cyber slate. We then headed for LA and an occasion we'll never forget. Gathered in a bright and airy room, overlooking a central square in Venice was a collection of the Muscle Beach and Golden Age originals. Lou and Arnold were two of the youngest of about a hundred who came together to honor the memory of Artie Zeller, a beautiful guy who told the story of bodybuilding to everyone, everywhere, through his photography. You know his work; it's your favorite black and white candid pictures that depict the age of bodybuilding before it rolled over.
Everyone knew each other, everyone genuinely embraced, everyone a character with history and miles. There was great food and refreshments and excited conversations. Point and shoot cameras were constantly being produced and engaged. You'll surely see a lot of silly pictures in all the mags, as all the mags were there.
Eventually John Balik of IronMan spoke and set in motion a series of spontaneous eulogies from an emotional congregation. Arnold told of Artie's mentoring -- had us rolling on the floor with his Zeller imitations and stories. They spent a lot of time together and were tight. Joe Weider was beside himself and Gregory Hines couldn't keep back the tears. Mostly, we laughed, and nodded, and agreed we were a family that had captured a priceless moment in time.
I was asked by Flex Magazine to write a short comment. Here it is…..
Artie Zeller was my true friend. I loved the guy and miss him. He was, indeed, a most unforgettable character, an original, unduplicatable. His life was defined by his love for his wife, Josie, his camera and his far-reaching friendships of the bodybuilding world — a curious world that spanned half a century. Artie's first years as a bodybuilder were spent pumping iron with Marvin Eder on Coney Island in the crazy New York City territory. He particularly loved Santa Monica and Venice Beach, his haunts during most of these fascinating years.
Artie's wonder and keen insight bore holes in the social landscape in which he dwelled. He didn't miss a tone or shade of the life that surrounded him. Look at his black and white photography and understand. You don't see a paper photo, you see a story and feel a mood and hear voices and are compelled to listen. They're a moment, still yet continuing. His honest composition takes you there and you don't care to leave.
What is a man without his sense of humor? Artie considered every "issue" carefully and had strong and bright convictions. At the same time he found comic in most everything, never silly, sometimes cynical but mostly laughably funny. His favorite stories center around his photo shoots, Joe Weider and the beloved bodybuilders.
There's the one where a splotch of us were positioned before Artie's precise lens on Venice Beach - muscular, tan and perfectly lit by the fading days-end sun. Joe Weider was directing activities with great passion, "Artie, Artie, shoot the picture," Joe said. "I'm out of film," replied Zeller. "Artie, I don't care, shoot it anyway," Joe yelped, jumping and flailing his arms.
Artie's camera clicked and all was quiet.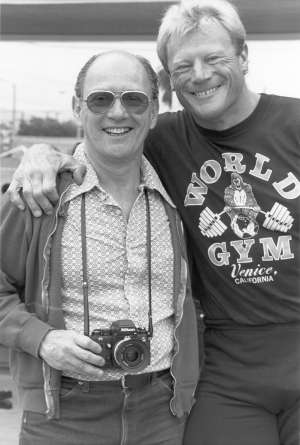 IOL Online Personal Training Program
Did you sign up for Dave's expanded email yet?
It's free, motivating and priceless!
We'll also send you a link to Dave's free Body Revival Tips and Hints booklet with your confirmation notice.


BILL PEARL/DAVE DRAPER LIVE SEMINAR DVD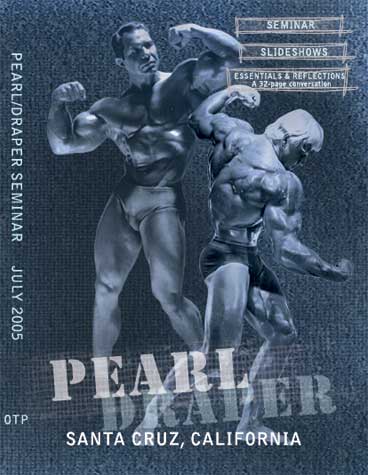 The Package includes a one-hour-and-fifteen-minute tape of the July seminar, two muscular slide shows, plus a 32-page booklet outlining the subsequent interview between the mighty one, Bill Pearl, and me in which we discuss some favorite subjects untouched by the seminar. ~Dave
Cut through the confusion! Grab your copy Brother Iron Sister Steel to make your training path clear.
Readers agree: Dave new book, Iron On My Mind, is non-stop inspirational reading.
Our IronOnline Forum will answer your training and nutriton questions right here, right now.
Golden Era fans will rejoice in this excerpt from West Coast Bodybuilding Scene.
Are your shoulders tight? Do your shoulders hurt when you squat? It's practically a miracle! Dave's Top Squat assists sqatters with shoulder problems.