Happy Labor Day, Ironworkers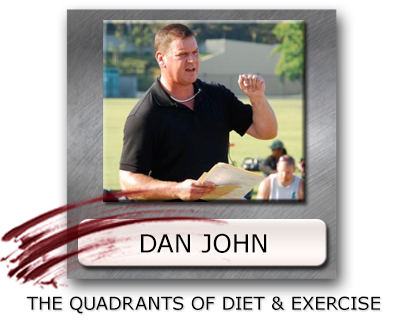 Click here for information on Dan John's new quadrants lecture
Download the full Draper here newsletter
in printable, live-link, pdf format, here.

…or something like that…
A short note for the muscle-weary, iron-headed populace: Never give up, never quit, never let go!

August is gone, September is here and summer is all but over. Dare I reference the IOL newsletter of early July when I warned, when I implored, "Let not the summer days vanish before glazed eyes"?
Alas, neither friends nor foes nor strangers listen to the mystic Bomber and his prophetic words of wisdom.
"Train hard, eat right and be good to your brothers and sisters," I beseeched you, "or, like fools, you will wander the streets and deserts in cold, barren darkness."

Each and every day that goes by without exercise, proper nutrition and a word of encouragement is a day lost -- earned by the deceptive, gained by the enemy, stolen by the evil one. Furthermore, it is designated as a sharply descending line in bright, watermelon-red crayon on the Chart of Happy Muscles displayed conspicuously everywhere you look.
I hate that… above the bathroom mirror, across the menu at McNoodles, over the flat-screen TV, on the back of a bus, inside the freezer next to the ice cream.

Ain't it funny, how time slips away? Well, come to think of it, ain't nothing funny about it. Catastrophic comes to mind… disastrous, appalling. I'm sure the simple yet profound thinker who penned those words meant 'time's slipping' as peculiar, not funny, humorous or a giggle, and he wasn't proposing a question so much as he was making a statement. Writing a song?
I swing my arms and grasp at the air, as if time could be held, I dig in my heels, as if time could be slowed or halted, I grit my teeth and squeeze my eyes shut in resistance, as if time could be influenced. Save your time (as if time could be saved), none of it works.

Why, it seems like only yesterday when I was a lad of 57 (13 years ago already), a rising star and my whole life was ahead of me. Laree and I started our little newsletter about muscle and might, and before you know it the magnificent message spread. Biceps and triceps flexed from coast to coast, pecs and lats rippled across the fruited planes. We brought abs to the inner cities and thighs and calves to mountain peaks. Today, no valley is without knowledge of broad shoulders, deltoid striations, dumbbell presses or sidearm lateral raises. Fat is on the run.
We researched, we experimented, we innovated; we applied trial and error, guts and hard work. Facts and truths, bright ideas and brilliant theories were shared. We learned. We reported. Barbell curls for biceps. Breathtaking! Full squats for power. Revolutionary! Protein for muscle growth. We grew.
Timely e-articles packed with excitement and cutting-edge information exploded from 250 words to 1,000 and 2,000 words as the years passed (where, no one knows). Now, 2012, with the iPhone 5, Facebook and Twitter, we are again reduced to a few measly hundred words again. No one reads whole sentences these days or more than 50 one-syllable faux words at a time. Eyes are glued to silver-blue screens and fingers are having texting fits on palm-size keyboards.
Should we venture to be personal, we grunt, nod and on occasion use hand signals.
Oops, I'm over my maximum word count. In closing, my favorite hit 'n go combinations:
gd, I luv grntng
qk wo: rptk n plovr, crl n xtn, bp n wdgrp pldn, sqt n ddlft
… c ya… dd
For you texting illiterates:
Good, I love grunting.
Quick Workout: Rope tuck and pullover, curl and extension, bench press and wide-grip pulldown, squat and deadlift.
See you… DD
God'strength
-----
You don't have to sign up for Facebook to read Dave's commentary and interactions on his Facebook page. Dave is on Facebook here:
http://www.facebook.com/bodybuilderdavedraper
Dave is on Twitter, here:
---
Take a trip over to our
Musclebuilding Q&A Blog
... where Dave allows us a peek into his email outbox.
Did you sign up for Dave's expanded email yet?
It's free, motivating and priceless!
We'll also send you a link to Dave's free
Body Revival Tips and Hints e-report with your confirmation notice.