Time Flies, Kid -- Hang onto Your Hat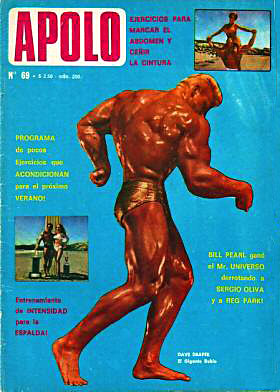 Download the full Draper here newsletter
in printable, live-link, pdf format, here.
Sixty-six years ago today the earth shook, the skies burst with lightning and thunder filled the air. Hopeful people across the nations stood with their hands raised high and faced the meadowlands of Secaucus, New Jersey. I was born in its grassy bosom that fateful morning, weighing twelve pounds and six ounces. Neither my mom nor I were laughing, my girth apparently larger than both of us.
I decline to proclaim April 16th a national holiday -- humility before honor -- but crowds nevertheless parade along Paterson Plank Road, the site of my old homestead, to pay tribute to the upholding of barbells and dumbbells, the unification of chins and dips, the perpetuation of supersets and the origination of tuna and water. Basic truths cannot be withheld, concealed or obliterated. History is written, muscle and might march on.
When Laree takes the time and energy to prop me up on the incline bench carefully, under the contrast of the heavy overhead lighting and using a certain softening filter on the lens of her Roloflex, I don't look a day over 99. Of course, as soon as the camera clicks, I collapse into a fleshy heap schmeared with baby oil and Man-tan and gasp for air. The show must go on, bombers.
I joke. We are on the cutting edge, Laree and I. She long ago retired her classic Rolly, and employs the latest digital widget for our stunning black and white compositions. With a fundamental understanding of Photoshop, she further customizes our masterpieces for our viewing audience's delight. We call it creativity.
Having let the cat out of the bag -- I'm no longer a pile of rocks, and more like a pillar of salt -- I have received considerable email from guys who are relieved they are not alone. They know better, but none is eager to acknowledge the bold truth, the bare facts, the revolting predicament -- the reality of... gag... old age (OA).
See what I mean? Did you feel that? I said it, OA, and ya'll cringed. More than one not-so-young bomber hit the delete key (cowards) and went to non-threatening pages of Google Earth, Amazon.com or MySpace. "Later! I'm outta here." All these years invested in muscle and might, iron, steel and discipline, and we fold like beach chairs as the sun goes down.
Excuse me. I, in this day of social correctness and sensitivity, should have applied the more appropriate and graceful terminology, gathering of years (GY).
Gee, why? Prevent mass hysteria.
Do you suppose we built a robust outer shell and not one of us has developed inner strength, courage or mettle -- spirit, heart and soul? No way. Such characters hang on the dismal corners of other sites, irontoughdudes.com, brutesteelmeanguys.org, uglymetalgorillas.gov.
I like older. Older lasts a long time, forever, in fact. Once you're older, young is silly. I was young once, but abandoned it for something more substantial and worthy: oldness. Young is ephemeral, passing, untested, vacant, thin, without density or mass. Old is deeply rooted and thick-walled, established, profound and unyielding. It's masterful.
I cannot resist mocking myself, my tarnished conversations and the fact I'm 66 and nibble at the edges of cracker-size workouts. I wonder how long this will go on, like I'm gonna get better; like I'm in a short recovery period and with a few nights' sleep, some soup and a couple of aspirin I'll be my old self again -- younger and stronger -- and charging around the gym, a bull in china shop: Warm up, don't forget cardio, keep a log, practice intelligent periodization, don't overtrain (but how can I help myself, compulsive whack job I am), eat right and rest lots. If only there were eight days in a week… push that iron, lift that steel, eat that tuna and drink that water... that's my bench, I'm using that bar.

Have you noticed? The older we get, the closer we approach the same abilities and capacities. Soon we'll be sharing similar instinctive training systems (SITS): breathe in, breathe out -- Good -- again -- breathe in, breathe out -- Good -- again..
Talk about insecurity: I went to the gym last Friday, did six dandy sets of cable work -- rope tucks and crossovers -- and had to sit slump-shouldered for 10 minutes on the nearest bench. Fatigue climbed over me like an onslaught of slugs. I dragged myself across the floor, out the door, down the steps and into my truck. I have never before walked out on a workout. People pointed, they gasped, they whispered, they stared, they dialed 411. Hello, information... where's he going?
What's that all about? This must not become a precedent. No way. I've trained twice since then and all systems are go. I'm a rocket ship. The warming days, the lengthening days, the hopeful spring days bring with them an expectation of sudden renewal. We need to modulate our training to suit the season of the year and the season of our lives. As we eased out of fall and into winter bareness, so should we ease into the spring and summer abundance.
Stop, look, listen. Pause and take note. Put your ear to the ground and sense the earth's rumbling. Lift your moistened finger to the air and determine the wind's direction. String your bow and choose your arrow, know your target and aim with care. I'm a stealthy archer. Pull steadily, release gently, don't shoot to kill, shoot to live. Retrieve your arrow and do it again.
Where am I going with this? Nowhere. I was going to compare isolated left-right nano-cell training with amplified molecular stimulus exercise, but no such things exist -- yet. I guess I'll have to go back to the basics. By the way, this is my last pass at the aging thing; have to get it out of my system. From now on it's strength and health, and bombing and blasting. I'm a bomber.
Try this upon entering the gym when you haven't a clue why you're there or what to do: Stand or sit someplace quiet and out of the way. Close your eyes, relax and count backwards from 10 to one. If this confuses you, go home immediately. If not, go on to step two, which includes determining which muscle group or groups need attention. Sometimes I will wiggle and shake my body to arouse meaningful muscle sensations to guide me in my selection. Apply this technique covertly. It's dumb, embarrassing if observed, but works.
Flex, extend, contract and consider. Where is the pain, what stings or burns or feels like lead... feels like jello?
This has been my general approach to training recently: Sit in the corner, flex, wonder and choose; hello chest, shoulders and back. Pick two non-vexing exercises for each muscle group, perform 3 to 4 sets of 6 to 12 reps (18 to 24 sets total) with 80-¬percent output and complete the deed in 45 to 60 minutes. Ride the bike or walk the plank for 15 minutes and call it a day -- one of three (or four) WOs this week.
At once cutting edge and pre-historic, this wholly unique methodology is making its circuitous journey to the forefront of resistance training. Time will prove its viability, its popularity, its acceptance. Your humble participation is priceless, noble and admirable.
Smile, go home, pet the dog, adore the cat, hug the spouse, squeeze the kids and feed the loving mob well. Thank God. Tomorrow's another day... possibly arms... maybe legs... perhaps a walk on the beach.
Preferably a charge down the runway, a dash for the sky and wings outstretched for the heavens above... where hope resides surely and abundantly... DD
Well, not exactly... there's more...
Here's an idea: Brother Iron Sister Steel was called The Best Book on Bodybuilding Ever by Muscle and Fitness magazine. You'll ask less and train harder with more joy and certainty after reading its fun pages. Tips and hints, routines and nutrition, motivation and stories, and tons of pictures from the good times.
Go... Godspeed... Dave
Soak yourself in a taste of bodybuilding's Golden Era with Dick Tyler's on-the-scene record, written in his easy-going, one-of-a-kind style, West Coast Bodybuilding Scene.
Take a trip over to our
New Musclebuilding Q&A Blog
... where Dave allows us a peek into his email outbox.
Did you sign up for Dave's expanded email yet?
It's free, motivating and priceless!
We'll also send you a link to Dave's free Body Revival Tips and Hints booklet with your confirmation notice.
BILL PEARL/DAVE DRAPER LIVE SEMINAR DVD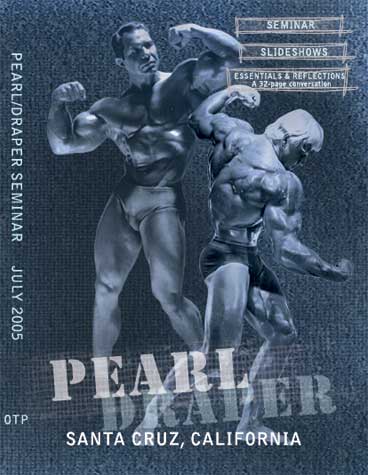 The Package includes a one-hour-and-fifteen-minute tape of the July seminar, two muscular slide shows, plus a 32-page booklet outlining the subsequent interview between the mighty one, Bill Pearl, and me in which we discuss some favorite subjects untouched by the seminar. ~Dave
Cut through the confusion! Grab your copy Brother Iron Sister Steel to make your training path clear.
Readers agree: Dave new book, Iron On My Mind, is non-stop inspirational reading.
Our IronOnline Forum will answer your training and nutriton questions right here, right now.
Golden Era fans will rejoice in this excerpt from West Coast Bodybuilding Scene.
Are your shoulders tight? Do your shoulders hurt when you squat? It's practically a miracle! Dave's Top Squat assists squatters with shoulder problems.